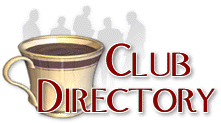 This directory lists over 2300 clubs related to Antiques and Collectibles
Click here to register your club -- Its FREE!
Find a club by name, starting with the letter:
A B C D E F G H I J K L M N O P Q R S T U V W X Y Z Other


FiberGlassics
Contact: Kelly Wood
Website

In July 1998 this site began an attempt to recognize the style and creativity of the original fiberglass boat designs from the 50's & 60's, plus capture the spirit of a time that has since past. This site honors the pioneering minds that conceived and created these beautiful... and never to be made again fiber glass boats.

Within this site, you will find information on old fiberglass boats. There are many sections. All brochures, pictures and information is FREE.