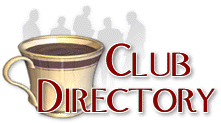 This directory lists over 2300 clubs related to Antiques and Collectibles
Click here to register your club -- Its FREE!
Find a club by name, starting with the letter:
A B C D E F G H I J K L M N O P Q R S T U V W X Y Z Other


Heritage Boat Club
Contact: Jan Zange
3929 N Nora Avenue
Chicago, IL 60634
Phone: 773-919-5425
Website

The Heritage Boat Club was established more than 20 years ago by a small group of sailors who moored their wooden boats in Montrose Harbor.The group saw the benefits of banding together to share their common interests of researching, restoring, preserving, and encouraging the continuing use of vintage sail and power boats. Today, the Heritage Boat Club boasts membership of more than 100 members from the Chicagoland area bound together by two things: their love of boating and heritage boats.