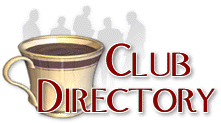 This directory lists over 2300 clubs related to Antiques and Collectibles
Click here to register your club -- Its FREE!
Find a club by name, starting with the letter:
A B C D E F G H I J K L M N O P Q R S T U V W X Y Z Other


Maritime Heritage Network
Contact: Maritime Heritage Network
Website

Maritime Heritage Network helps you discover Pacific Northwest maritime history and heritage. You'll find fascinating activities, ships for historic voyages, musicians preserving sea shanty traditions and sailor songs, maritime museums for exploring maritime past and present, information on maritime careers, and organizations saving irreplaceable resources for the future.

MHN promotes Puget Sound and Washington State maritime heritage to residents and visitors. MHN, a project of the Seattle/King County Maritime Heritage Task Force, is a collaboration among 4Culture, the National Trust for Historic Preservation, and heritage groups. All organizations conserve heritage resources to educate everyone about the place of maritime tradition in our past and future.