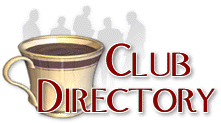 This directory lists over 2300 clubs related to Antiques and Collectibles
Click here to register your club -- Its FREE!
Find a club by name, starting with the letter:
A B C D E F G H I J K L M N O P Q R S T U V W X Y Z Other


Sailing Heritage Society
Contact: Sailing Heritage Society
860 Terry Ave. N.
Suite 238
Seattle, WA 98109
Phone: 206-381-6919
Fax: 206-381-9556
Website

The Sailing Heritage Society is a not-for-profit organization that offers sail training and education to promote healthy recreation for a number of at-risk youth groups in the community, as well as respite for critically ill cancer patients and solace for victims of domestic violence. Charity and discount sailing trips are scheduled aboard the schooner Mallory Todd through the year. Educational trips range from day trips on the lakes, to a week or more in the San Juan Islands or Alaska. The experienced crew teaches maritime skills and teamwork while developing individuals' self-worth. Guests experience the thrill of sailing on a tall ship on Seattle's waterways and beyond.