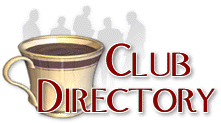 This directory lists over 2300 clubs related to Antiques and Collectibles
Click here to register your club -- Its FREE!
Find a club by name, starting with the letter:
A B C D E F G H I J K L M N O P Q R S T U V W X Y Z Other


Zippo Club Austria
Contact: Zippo Club Austria
Website

Wir über uns Der "Zippo Club Austria - Verein zur Förderungder Zippo Sammler" ist ein unpolitischer Verein dessen Tätigkeit nicht auf Gewinn ausgerichtet ist.

Der Vereinszweck ist die Förderung der Österreichischen Zippo Sammler durch die Verschaffung von Vorteilen bei ihrer Sammlertätigkeit, die Unterstützung der Marke Zippo in ihrem Bekanntheitsgrad und Image sowie die Förderung gesellschaftlicher Kontakte unter den Mitgliedern.

Unser Ziel ist es Clubmitglieder soweit wie möglich bei ihrem Hobby, dem Sammeln von Zippo Feuerzeugen zu unterstützen und unser Wissen über die Marke Zippo weiterzugeben beziehungsweise zu vertiefen.

Der Club besteht seit 1994 und hat derzeit rund 120 Mitglieder.