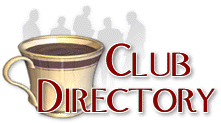 This directory lists over 2300 clubs related to Antiques and Collectibles
Click here to register your club -- Its FREE!
Find a club by name, starting with the letter:
A B C D E F G H I J K L M N O P Q R S T U V W X Y Z Other


Zippo Collectors Club of South Africa
Focus: Zippo Lighters
Contact: Zippo Collectors Club of South Africa
Website

From a mysterious jetsetter on his 3 wheeled monster to the self proclaimed 80 year old babe; from the draconian ex cop to the lion taming farmer and from the Indian trickmaster to the American dream... It takes all sorts to fill a packet...

If you love the click sound a Zippo lighter makes when flips open and can't help yourself when you see a new one in the window of your local retailer... you are not alone...

The Zippo Collectors Club of South Africa was started during 2000. Members have come and gone however, there is a core of around 10 long standing hard core collectors who between them can answer just about any question that may pop up.

This group is a diverse one including the MD of Zippo South Africa, a couple from the USA who travel the world attending various Zippo swap-meets and members from the major provinces of South Africa.

They know what to buy, where to buy it and in most cases, how much to pay for it.

One of the main benefits of the club is a mailing list where members communicate with each other on a regular basis sharing their latest acquisitions and any questions or concerns that may arise during the practice of their hobby.