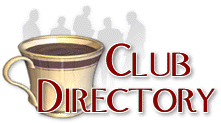 This directory lists over 2300 clubs related to Antiques and Collectibles
Click here to register your club -- Its FREE!
Find a club by name, starting with the letter:
A B C D E F G H I J K L M N O P Q R S T U V W X Y Z Other


Fly-in Club
Contact: Webmaster
P.O Box 162
Lafox, IL 60147
Website

The official site of the Flying Eagle and Indian Head Cent Collectors Society

As a Fly-In Club member, you will be entitled to three issues of Longacre's Ledger, the official journal of the Flying Eagle and Indian Cent Collector's society.
Longacre's Ledger is the award-winning journal of the Club issued three times per year. As such it serves as the voice of the members, supplying articles and information on pricing, rarity ratings, availability, history, how error coins are made, as well as the minting process itself. The club boasts many leading numismatists of national distinction amongst its membership. The club encourages all members to participate with their own writing, and photography is available at no charge to members.