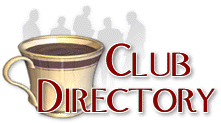 This directory lists over 2300 clubs related to Antiques and Collectibles
Click here to register your club -- Its FREE!
Find a club by name, starting with the letter:
A B C D E F G H I J K L M N O P Q R S T U V W X Y Z Other


Yahoo World Thimblers
Publications: Monthly e-Newsletter
Contact: Paula Reger
McColloch
Wheeling, WV 26003 US
Website

Yahoo World Thimblers is a group of thimble collectors from all over the world. We warmly welcome beginners and long time collectors alike - friendships that will last a lifetime are being made right here! Our members take pride in joint ownership of this group and invite you to be a partner. Come and enjoy bi-monthly thimble trades, a monthly e-newsletter, themed picture albums, contests, more thimble info than you can imagine and best of all, FRIENDSHIP!