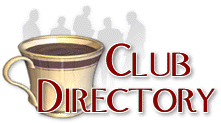 This directory lists over 2300 clubs related to Antiques and Collectibles
Click here to register your club -- Its FREE!
Find a club by name, starting with the letter:
A B C D E F G H I J K L M N O P Q R S T U V W X Y Z Other


Durant Motors Automobile Club
Publications: The Durant Partner
Contact: Bob Smith
36234 S Cypress Drive
Tucson, AZ 85739 US
Website

Our Purpose:

Educate the public & membership to the fascinating history of the Durant Motor Company, its wonderful automobiles, William C. Durant it's founder, including his period with General Motors and the Durant Dort Carriage Company.

Preserve the automobiles manufactured by Durant Motor Company (1921-1931).
Provide technical assistance to each member with various technical advisors and documentation.
Provide enjoyment for each member with meets and tours.
Supported automobiles are Durant, Star, Rugby, Flint, Frontenac, DeVaux, Dort & Durant Era Locomobiles.