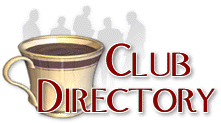 This directory lists over 2300 clubs related to Antiques and Collectibles
Click here to register your club -- Its FREE!
Find a club by name, starting with the letter:
A B C D E F G H I J K L M N O P Q R S T U V W X Y Z Other


John Maddock Collectors Club
Contact: Bob Schneider
Toledo, OH 43614 US

I am interested in establishing a Maddock club for purposes of learning more about this old English pottery and sharing information about date coding, particular patterns, etc. Please contact me if you would be interested. WE have two members!! Please help us to build our club.