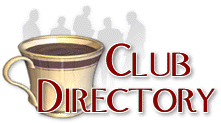 This directory lists over 2300 clubs related to Antiques and Collectibles
Click here to register your club -- Its FREE!
Find a club by name, starting with the letter:
A B C D E F G H I J K L M N O P Q R S T U V W X Y Z Other


Questers International
Publications: Questers Quarterly (for members only)
Contact: Karen Weeber
210 SOUTH QUINCE STREET
PHILADELPHIA, PA 19107-5534 US
Phone: 215 923-5183
Fax: 215 923-5183
Website

This special organization springs forth to form new chapters when eight or more people gather to gain new friendships, discuss the fascinating topics of antiques and history, and to share their collections and personal knowledge with others. Each Chapter chooses a name from an historic item, person, site, or happening. Their short description of their Chapter name is written and placed in the "What's In A Name" file. Chapters come together to form their State and Provincial Quester Organizations which in turn all combine to make up the total International Quester Organization. Questers are governed by International Bylaws with States, Provinces, and Chapters retaining their own Bylaws accepted by International Questers.The Purposes of this Organization are to educate by research and study of antiques and to donate funds to the preservation and restoration of artifacts, existing memorials, historic buildings, landmarks, and educational purposes. The Questers exist and operate as a non-profit 501(c)(3)organization. Active members pay annual International dues of $20.00 which are allocated to: (a) the International Preservation and Restoration Fund; (b) the costs of publishing "THE QUESTER QUARTERLY"; (c) the per capita allotment to the State or Provincial Organization within each Chartered State or Province; (d) the operation of the International Headquarters; and (e) other general and administrative expenses. Chapters set their own dues.