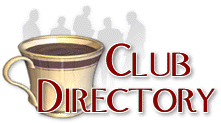 This directory lists over 2300 clubs related to Antiques and Collectibles
Click here to register your club -- Its FREE!
Find a club by name, starting with the letter:
A B C D E F G H I J K L M N O P Q R S T U V W X Y Z Other


Just For Openers
Contact: John Stanley
3712 Suningdale Way
Durham, NC 27707-5684 US
Website

If you collect beer advertising openers or corkscrews, this is the web site you have been looking for. Through Just for Openers (JFO), you "open" new resources of information and access to other collectors. Continue reading for information on Club membership, Newsletters, the Annual Convention and Publications.

Just for Openers was founded in 1979 by Don Bull of Wirtz, Virginia. Members in the United States and Canada mainly collect beer advertising openers and corkscrews, but may also collect soda advertising openers, figural cast iron bottle openers, can openers and non-advertising corkscrews.