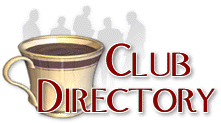 This directory lists over 2300 clubs related to Antiques and Collectibles
Click here to register your club -- Its FREE!
Find a club by name, starting with the letter:
A B C D E F G H I J K L M N O P Q R S T U V W X Y Z Other


Old Sleepy Eye Collectors Club of America

Contact: Old Sleepy Eye Collectors Club of America
1405 10th Ave SE
Rochester, MN 55904-5369
Phone: 507-254-3024
Website

The Old Sleepy Eye Collectors' Club of America, Inc. was formed in 1976 and chartered as a nonprofit organization. It originated in Monmouth, Illinois, the home of Western Stoneware Co., the plant where Sleepy Eye pottery was produced. The club is dedicated to the collecting and preservation of items related to the Sleepy Eye Milling Co. of Sleepy Eye, Minnesota. Members come from throughout the United States.