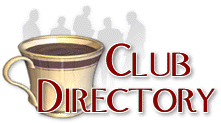 This directory lists over 2300 clubs related to Antiques and Collectibles
Click here to register your club -- Its FREE!
Find a club by name, starting with the letter:
A B C D E F G H I J K L M N O P Q R S T U V W X Y Z Other


Florida Antique Tackle Collectors, Inc.
Contact: Ron Gast, Sec.
2306 Leeward Cove
Kissimmee, FL 34746-3639 US
Phone: 407-496-7940
Website

Florida Antique Tackle Collectors, Inc. (FATC) is a non-profit, educational corporation, incorporated in the State of Florida. The purpose of FATC is education through the collection and distribution of historical and technical data regarding fishing equipment, its development, its inventors and manufactures from the earliest times through the present day, and to assist other groups and individuals having a similar purpose. In order to enhance the knowledge of these subjects the collection and preservation of examples of fishing tackle is to be encouraged for the benefit of present and future generations.