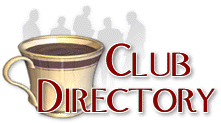 This directory lists over 2300 clubs related to Antiques and Collectibles
Click here to register your club -- Its FREE!
Find a club by name, starting with the letter:
A B C D E F G H I J K L M N O P Q R S T U V W X Y Z Other


R Atkinson Fox Society
Publications: Fox Tales- quartely newsletter
Contact: Ron and Cora Grassmann
635 E. Palm
Altadena, CA 91001 US
Website

Our goal is provide information about R A Fox and his artwork through a quarterly newsletter and annual convention. We also have collectors and dealers whom are interested in the many artists and illustrators during the Golden Age of Illustration.