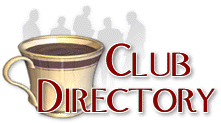 This directory lists over 2300 clubs related to Antiques and Collectibles
Click here to register your club -- Its FREE!
Find a club by name, starting with the letter:
A B C D E F G H I J K L M N O P Q R S T U V W X Y Z Other


Vacuum Cleaner Collectors Club
Contact: Ken Wagman, Mem. Coord.
340 W.. Main St.
Capron, IL 61012
Website

This is the official website of the Vacuum Cleaner Collectors Club (VCCC.) It is dedicated to those who love and are fascinated with vacuum cleaners old and new. Come and join us to explore and enjoy the world of the vacuum cleaner from the beginning to the present.