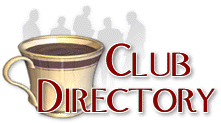 This directory lists over 2300 clubs related to Antiques and Collectibles
Click here to register your club -- Its FREE!
Find a club by name, starting with the letter:
A B C D E F G H I J K L M N O P Q R S T U V W X Y Z Other


Little Rhody Bottle Club
Contact: Little Rhody Bottle Club
Website

Founded in 1970, the Little Rhody Bottle Club has continually strived to promote the hobby of antique bottle collecting through the preservation of antique bottles and education through research relative to the companies those bottles represent. This website was developed and put into full operation in the beginning of November 2000. It has gone through several changes in the time since and will continue to change and develop to meet the needs of collectors and others interested in the bottle collecting hobby. Our online newsletter is uploaded around the first of the month and the online version of our bottle book, Antique Bottles Of Rhode Island, is updated as new bottles are reported.