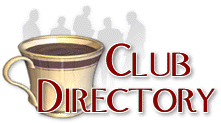 This directory lists over 2300 clubs related to Antiques and Collectibles
Click here to register your club -- Its FREE!
Find a club by name, starting with the letter:
A B C D E F G H I J K L M N O P Q R S T U V W X Y Z Other


McCoy Lovers
Publications: NMExpress Newsletter
Contact: Carol Seman
8934 Brecksville Road PMB 406
Brecksville, OH 44141 US
Phone: (440) 526-2094
Website

Welcome McCoy Lovers. This is it! Your McCoy Lovers' Home Page. Veteran collectors and those starting on their McCoy venture will find most anything about McCoy Pottery here. The Reproduction link will take you a list of reproduction McCoy pottery and cookie jars. It's an endless struggle, but a necessary part of McCoy collector information. On line shopping will link you to our favorite websites selling McCoy, including eBay lists. McCoy Lovers support fellow collectors and their community - they proudly belong to the McCoy Lovers' family. Please, take the time to read about grea things we do in news and the McCoy Lovers' NMXpress Donor Fund! Check out our Vase In Place! Very cool! We are most proud of McCoy Lovers'generousity and the McCoy Lovers' NMXpress monthly newsletter in its 13th year of publication! If you aren't a subscriber, look at what we have to offer. Thirteen years - we must be doing something right. Because McCoy Lovers have a variety of related interests, you'll find links to other sites - the Cope Gallery, Billie and Nelson McCoy's "McCoy Collection" and other interesting sites to visit. When we hear of McCoy or pottery events, we'll supply you with information or links things like the Pottery Festival and auctions.