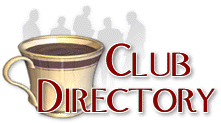 This directory lists over 2300 clubs related to Antiques and Collectibles
Click here to register your club -- Its FREE!
Find a club by name, starting with the letter:
A B C D E F G H I J K L M N O P Q R S T U V W X Y Z Other


National Antique Oldsmobile Club
Contact: Clay Mollmar
4 Lindworth Drive
St Louis, MO 63124-1454 US
Website

The National Antique Oldsmobile Club is a non-profit corporation founded in 1981. It is
devoted to encouraging the preservation, restoration and public display of the products of
the former Oldsmobile Division of General Motors built from 1897 through 1966. We
also now welcome pre-1940 GMC trucks factory equipped with Oldsmobile engines. The
club provides historical, technical and educational materials to its members and the
general public. Membership is open to all those interested in vintage Oldsmobiles. The
ownership of such a car or truck is not required.

If you like Oldsmobiles, the National Antique Oldsmobile Club is the one for you. To
better serve people who are interested in the models of Oldsmobiles from the early
Curved-Dash Runabouts to the powerful Rockets.

The NAOC is a FUN group to help you enjoy your Oldsmobile. Whether you have had
your Oldsmobile professionally restored, or are doing it yourself, or just like to drive it,
we offer something for everyone.