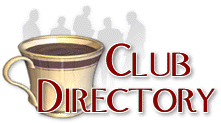 This directory lists over 2300 clubs related to Antiques and Collectibles
Click here to register your club -- Its FREE!
Find a club by name, starting with the letter:
A B C D E F G H I J K L M N O P Q R S T U V W X Y Z Other


Old Reel Collectors Association (ORCA
Contact: Secretary-Treasurer
ORCA 160 Shoreline Walk
Alpharetta, GA 30022 US
Website

Welcome to the on-line home of the Old Reel Collectors Association, Inc. On these pages we think you will find a great deal of information about our organization and what we can offer to people who are interested in learning more about old fishing reels.

For a look at who we are, and what we have to offer, just step inside and read about us, or click on any of the links provided on this page.