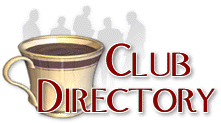 This directory lists over 2300 clubs related to Antiques and Collectibles
Click here to register your club -- Its FREE!
Find a club by name, starting with the letter:
A B C D E F G H I J K L M N O P Q R S T U V W X Y Z Other


Paden City Glass Society
Contact: Paden City Glass Society
PO Box 139
Paden City, WV 26159 US
Phone: (304) 337-9257
Website

The Paden City Glass Society, Inc. was incorporated in January 2000. The purpose of the corporation is for educational, charitable, and scientific purposes to foster the accumulation and spread of knowledge regarding Paden City Glass. Regular membership will be issued upon receipt of membership application and payment of $16.00 annual dues. Associate membership will be issued to any other family member residing at the same address as a regular member. Associate membership is $8.00 annual dues and they will have all the rights and privileges of regular members except the right to receive the newsletter. The annual meeting and banquet of the Paden City Glass Society is determined by the Board of Directors. Members will be contacted as to the date in the quarterly newsletter before the event. Paden City Glass Society sends its members a newsletter in January, April, July and October. The Paden City Glass & Pottery Museum that is sponsored by the Paden City Glass Society. It is located at the home of Pat & Linda Stillwagner, 202 S. Third Avenue, Paden City, WV.