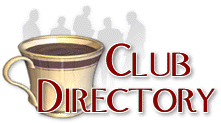 This directory lists over 2300 clubs related to Antiques and Collectibles
Click here to register your club -- Its FREE!
Find a club by name, starting with the letter:
A B C D E F G H I J K L M N O P Q R S T U V W X Y Z Other


Red Wing Collectors Society Inc
Contact: Kay Wilshusen
PO Box 50
Red Wing, MN 55066 US
Phone: 800 977-7927
Website

Welcome to the official site of the Red Wing Collectors Society (RWCS). The RWCS is nearly 30 years old, making it one of the oldest and largest collecting groups in the Nation. You will gain knowledge of the products made by Red Wing throughout the Pottery's nearly century of production. You may also want to ask a question from one of our panel of experts. As well as, learning about the Collectors Society, it's history, goals and how you too, can become a member. Enjoy your visit and remember to come back as there will be continually new articles, pictures and features. We also want to hear from you so contact us if you have any suggestions or questions.