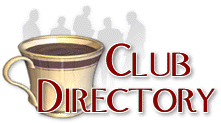 This directory lists over 2300 clubs related to Antiques and Collectibles
Click here to register your club -- Its FREE!
Find a club by name, starting with the letter:
A B C D E F G H I J K L M N O P Q R S T U V W X Y Z Other


Sacramento Art Deco Society
Contact: Richard Unger
PO Box 162836
Sacramento, CA 95816-2836 US
Phone: (916) 736-1929
Website

The Sacramento Art Deco Society (SADS)

is a non-profit organization, founded in 1991, dedicated to preserving all aspects of the Art Deco period. Our aim is to raise awareness and appreciation of Art Deco. Our activities center around the preservation, education, history, and entertainment of this exciting era. SADS creates new and exciting events to keep the awareness of Art Deco alive.