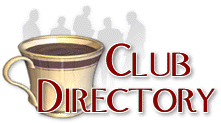 This directory lists over 2300 clubs related to Antiques and Collectibles
Click here to register your club -- Its FREE!
Find a club by name, starting with the letter:
A B C D E F G H I J K L M N O P Q R S T U V W X Y Z Other


The Antique Wireless Association
Contact: The Antique Wireless Association
P.O. Box 421
Bloomfield, NY 14469 US
Website

The Antique Wireless AssociationTM was founded in 1952. It is chartered in the State of New York as a Not-For-Profit Corporation. The AWA is also a member of the American Association of Museums, and the Upstate History Alliance, which is affiliated with the New York State Education Department/Office of Cultural Education.