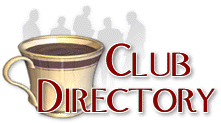 This directory lists over 2300 clubs related to Antiques and Collectibles
Click here to register your club -- Its FREE!
Find a club by name, starting with the letter:
A B C D E F G H I J K L M N O P Q R S T U V W X Y Z Other


The Goebel Networkers
Contact: Matt
PO Box 396
Lemoyne, PA 17043 US
Website

There are two private, non-profit clubs on the subject of Goebel collecting. Both issue quarterly newsletters, have conventions, and charge very reasonable dues. 'The Goebel Networkers" is an offshoot of the Berks County, PA Hummel club. We have a bi-annual convention in Reading, PA the last weekend in April which coincides with Renningers extravaganza in Kutztown.