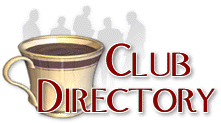 This directory lists over 2300 clubs related to Antiques and Collectibles
Click here to register your club -- Its FREE!
Find a club by name, starting with the letter:
A B C D E F G H I J K L M N O P Q R S T U V W X Y Z Other


The Happy Pig Collectors Club
Contact: CarolBlackman
4542 N Western Ave
Chicago, IL 60625-2117 US
Phone: (773) 878-8328
Website

Happy Pig Club Motto: This is a club dedicated to people who collect pigs, so that they may gain more enjoyment from their hobby and to meet and mingle with others cursed with the same strange affliction. Just for the nonsense of it all and to give respect to "When I see a pig I think of you".

The club is going strong, starting our 12th year, becoming better known each year. Our membership share interests that range from potbellied pigs to piggy banks from hog oilers to Hummels and everything piggy in between. One member is the Guinness Record holder for Largest Pig Collection! We publish a magazine format newsletter four times a year called "The Happy Pig" in black & white. Dues are payable annually. The HPCC is a not for profit corporation registered in the State of IL.
Join us in Brentwood, TN (a Nashville suburb) for our 12th Annual Happy Pig Collectors Club Convention on July 20th & 21st in 2007! It'll be a good time for all! One of our activities will include a night at the Grand Ole Opry! Click on the message link at the bottom of this page if you have questions you need answered about our club or the convention.