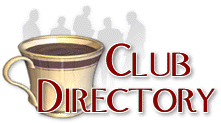 This directory lists over 2300 clubs related to Antiques and Collectibles
Click here to register your club -- Its FREE!
Find a club by name, starting with the letter:
A B C D E F G H I J K L M N O P Q R S T U V W X Y Z Other


The Historical Lighting Society of Canada
Contact: Alan Goulding President & Webmaster
PO Box 561
Station R
Toronto, ON M4G 4E1 CA
Website

We are a group of lighting enthusiasts from Canada, the US and around the world. Founded in 1981, we tend to focus on lighting of the kerosene era, though we have members who collect all types of lighting.