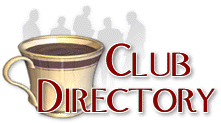 This directory lists over 2300 clubs related to Antiques and Collectibles
Click here to register your club -- Its FREE!
Find a club by name, starting with the letter:
A B C D E F G H I J K L M N O P Q R S T U V W X Y Z Other


Uhl Collectors' Society
Contact: Pat Norman, President
Website

Originally founded in 1985 with its first annual "UHL Collectors Society" meeting held in Huntingburg, Indiana on October 12 of that year. The eleven members were present. Each received an embossed #2 pencil commemorating the event. This "Non-for Profit" organization holds its annual convention the last weekend of June. The convention consists of a dinner in Jasper, Indiana, followed by a private auction for members only. After the auction, many members who are staying the night open their room doors to other members offering UHL items for sale from their private collection or their finds. Saturday morning is when the business meeting is held. Prior to meeting, tables are set up with items again for sale. A continental breakfast is provided and at this time suggestions are taken from members in effort to improve the convention the following year. We also review the minutes and events from the last years meeting and new officers and board members are elected, for those with expired terms. You will find photos of all the pottery commemoratives and the quantity issued for that year.