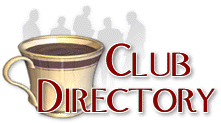 This directory lists over 2300 clubs related to Antiques and Collectibles
Click here to register your club -- Its FREE!
Find a club by name, starting with the letter:
A B C D E F G H I J K L M N O P Q R S T U V W X Y Z Other


Underdog Collectors Club
Contact: Underdog Collectors Club
8856 Ridge Rd NE
Kinsman, OH 44428 US
Phone: 216-876-6727
Website

From the initial drawings in 1963 Joe Harris, the creator of Underdog, mimicked Superman as virtually all superheroes have done. But Underdog was different, his weaknesses were obvious.

After his introduction, Underdog quickly became a pop culture icon. From TV guide to the Macy's Thanksgiving day parade to toys to comics to games, Underdog was everywhere. You can see some of those items in the 2 collectible areas on your left. If you're like a million other people who are looking for the Underdog theme song it can be found on the left as well.

UnderdogCollector.com is about enjoying Underdog stuff but it's also about collecting memories of your childhood. Hopefully as you see Underdog save Sweet Polly Purebred you will remember romping through the house with your brother or sister. Or it could be that you'll be reminded of your biggest worry as a child, will it rain? Or maybe you'll remember eating cereal that included the word "sugar" in the title and not caring. Whatever it brings to your mind I hope it's a happy memory.