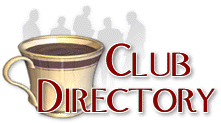 This directory lists over 2300 clubs related to Antiques and Collectibles
Click here to register your club -- Its FREE!
Find a club by name, starting with the letter:
A B C D E F G H I J K L M N O P Q R S T U V W X Y Z Other


Universal Autograph Collectors Club
Publications: Magazine: Pen & Quill, The
Contact: Al Wittnebert, Treas.
P.O. Box 6181
Washington, DC 20044-6181 US
Phone: 352-383-1958
Fax: 352-383-7524
Website

The UACC has over 2,000 members worldwide; offers a bi-monthly magazine with reports on facsimiles, forgeries, authentication, auctions, shows, celebrity addresses, etc.