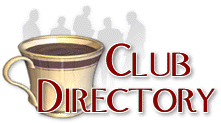 This directory lists over 2300 clubs related to Antiques and Collectibles
Click here to register your club -- Its FREE!
Find a club by name, starting with the letter:
A B C D E F G H I J K L M N O P Q R S T U V W X Y Z Other


Vintage Castings
Contact: Bill Lango
127 74 St
North Bergen, NJ 7047 US
Website

As long time collectors, we became actively involved in the toy soldier hobby in a commercial way, when in the late 1970s we purchased a large number of old original Barclay & Metal Cast factory production molds. Our hobby grew into a business, and in 1981 we began doing business under the fitting name: Vintage Castings. Today Vintage Castings, Inc., produces a very limited number of Dimestore Soldiers, Christmas Figures, Civilian Figures, Animals, and Vehicles from these old original molds. We are also the proud sponsor of the Annual East Coast Toy Soldier Show & Sale. Vintage Castings, Inc., is also the publisher of Toy Soldier Review magazine, and now have taken the magazine from print form to an on-line version.