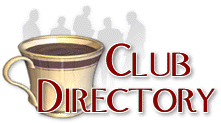 This directory lists over 2300 clubs related to Antiques and Collectibles
Click here to register your club -- Its FREE!
Find a club by name, starting with the letter:
A B C D E F G H I J K L M N O P Q R S T U V W X Y Z Other


Vintage Fashion & Costume Jewelry Club
Publications: Magazine: VF&CJ Magazine
Contact: Lucille Tempesta
P.O. Box 265
Glen Oaks, NY 11004-0265 US
Phone: 718-939-3095
Fax: 718-939-7988
Website

Over 1,000 members in 50 states and overseas; quarterly magazine; conventions; oldest club devoted to vintage costume jewelry collecting.