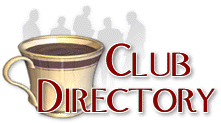 This directory lists over 2300 clubs related to Antiques and Collectibles
Click here to register your club -- Its FREE!
Find a club by name, starting with the letter:
A B C D E F G H I J K L M N O P Q R S T U V W X Y Z Other


Watt Collectors Association
Contact: Garry Hanson
P.O. Box 253
Sussex, WI 53089-0253 US
Website

The Watt Collectors Association is a non-profit, educational organization, dedicated to the study and preservation of this unique segment of the pottery world. Members of the association receive the quarterly publication Watt's News in January, April, July and October. This newsletter contains informative articles on all aspects of Watt Pottery written by members with many years of collecting experience. Information includes the latest unearthed details on the pottery's intriguing history, information covering individual pieces and patterns, human interest stories, a classified section, and much, much more! Annual membership dues for the Watt Collectors Association are $20 a year per person. We welcome any number of memberships within a household. Dues are payable yearly at your anniversary date, which is shown on your mailing label. Payment of dues extending membership for more than one year at a time cannot be accepted. Please fill in this form completely, print it, and then send it along with your personal check (made out to WCA) or money order to the address at the bottom of this form.