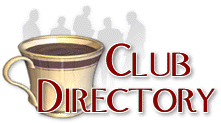 This directory lists over 2300 clubs related to Antiques and Collectibles
Click here to register your club -- Its FREE!
Find a club by name, starting with the letter:
A B C D E F G H I J K L M N O P Q R S T U V W X Y Z Other


Federation of Historical Bottle Collectors
Publications: Bottles & Extras
Contact: June Lowry
401 Johnston Ct.
Raymore, MO 64083 US
Phone: 816-318-0160
Fax: 816-318-0162
Website

Group dedicated to the education of and preservation of historical bottles. This includes, but is not limited to, medicines, flasks, sodas, fruit jars, bitters, whiskeys.. Founded in 1969 as Federation of Historical Bottle Clubs. The name was changed in 1989 to the current. Our magazine is published bi-monthy and are always looking for interested persons to contribute articles. A national show is sponsored somewhere in the country every year and every fourth year, a three day Exposition dedicated to bottles, jars, pottery, advertising, insulators target balls, go-withs, etc is held. The 2011 National show will be in Memphis, Tennessee June 25 - 26 at the Cook Convention Center and Marriott and the 2012 Exposition will be held in Reno, Nevada in July 27 - 29 at the Grand Sierra Resort. More information can be obtained from R Wayne Lowry (FOHBC Conventions Director), 816-138-0161 or JarDoctor@aol.com.