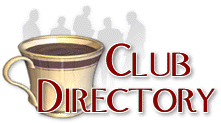 This directory lists over 2300 clubs related to Antiques and Collectibles
Click here to register your club -- Its FREE!
Find a club by name, starting with the letter:
A B C D E F G H I J K L M N O P Q R S T U V W X Y Z Other


Watt Pottery Collectors
Publications: Quarterly: Watt's News
Contact: Dennis Thompson
P.O. Box 253
Sussex, WI 53089-0253 US
Website

The Watt Collectors Association is a non-profit, educational organization, dedicated to the study and preservation of this unique segment of the pottery world. Members of the association receive the quarterly publication Watt's News in January, April, July and October. This newsletter contains informative articles on all aspects of Watt Pottery written by members with many years of collecting experience. Information includes the latest unearthed details on the pottery's intriguing history, information covering individual pieces and patterns, human interest stories, a classified section, and much, much more!