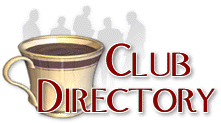 This directory lists over 2300 clubs related to Antiques and Collectibles
Click here to register your club -- Its FREE!
Find a club by name, starting with the letter:
A B C D E F G H I J K L M N O P Q R S T U V W X Y Z Other


1/87th Scale Vehicle & Equipment Club
102 Plymouth Park S/C #168
Irving, TX 75061 US
Website

The 1/87 VEHICLE CLUB was established to promote the construction, use, and manufacture of prototypically accurate vehicle and equipment models in 1/87 scale. 1/87 scale is most commonly referred to as "HO" scale because this is the scale of HO gauge model trains (which are 1/87.1 scale), by far the most popular scale for railroad modeling. Our club assists in the exhibition, promotion, manufacturing, and production research of vehicles of all kinds in this scale. Our membership reflects active modelers, manufacturers, historians, and collectors in the military, commercial truck, specialty and racing automobile, railroad/intermodal, antique automobile and truck, fire fighting equipment, construction equipment, and farm equipment fields. If you can imagine a piece of machinery or a vehicle, we probably already have a member who has a passion for those models. This is the place to meet and communicate with other people who are passionate about your hobby.