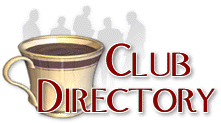 This directory lists over 2300 clubs related to Antiques and Collectibles
Click here to register your club -- Its FREE!
Find a club by name, starting with the letter:
A B C D E F G H I J K L M N O P Q R S T U V W X Y Z Other


Glasfax
Focus: Canadian Glass
Contact: Glasfax
Website

Glasfax is an organization dedicated to the study of glass manufactured and used in Canada. Organized in 1967, there are two chapters – District 3 with members in the Greater Toronto Area and District 4 with a membership based in southwestern Ontario. Our members are interested in the history of glass in all its phases from raw materials to the finished article. It has become apparent that the continued existence of Glasfax is largely unknown to the network of glass researchers and collectors in Canada. This webpage has been prepared to outline the current status of Glasfax and our recent activities. The objectives of Glasfax are: * To encourage interest in the preservation and history of Canadian glass * To encourage the exchange of information between members and non-members * To assist newcomers to this field in acquiring knowledge and a deep appreciation of the beauty and artistry found in many forms of glass District 4, in the London region, meets the second Sunday afternoon of each month with the exception of July and August. District 3, in the Greater Toronto area, typically has eight meetings on Sunday afternoons in halls, homes, or local museums. Meetings are typically held in member's homes where we can enjoy viewing their collections while partaking of a light lunch prior to the meeting. Our meetings include informal talks by members, guest speakers, videos, etc. followed by a show and tell session. Other activities include visits to museums, art galleries and glass seminars.