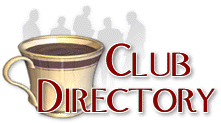 This directory lists over 2300 clubs related to Antiques and Collectibles
Click here to register your club -- Its FREE!
Find a club by name, starting with the letter:
A B C D E F G H I J K L M N O P Q R S T U V W X Y Z Other


Indiana Glass Society
Publications: The Indiana Glass Society Newsletter
Contact: Indiana Glass Society
Website

Our organization is dedicated to the preservation, study and display of all the wonderful glass products manufactured by the Indiana Glass Company of Dunkirk, Indiana. Consider becoming a member and share your enthusiasm and excitement in the collecting of this wonderful glass.