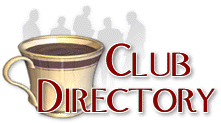 This directory lists over 2300 clubs related to Antiques and Collectibles
Click here to register your club -- Its FREE!
Find a club by name, starting with the letter:
A B C D E F G H I J K L M N O P Q R S T U V W X Y Z Other


Genessee Valley Bottle Collectors Association
Contact: Jim Bartholomew
Website

GVBCA was founded back in 1969 by ten or so "founding" people who at that time knew very few other "bottle" collectors. In addition, the founding members had very little knowledge about each other. However, they had a common passion, interest, and goal to learn more about bottles. At that time, a club that would bond collectors together seemed right. It gave a chance for members to share bottle collecting stories and knowledge along with the chance to buy, sell and trade bottles with each other. At one time, there were more than two hundred people attending our monthly meetings. Soon, promotion of our first bottle show in Rochester began in 1969. The following spring, GVBCA hosted the first of many successful shows at Vince's Fifty Acres. The following year the show was moved to building two at the Monroe County Fairgrounds, then Minett Hall, and now at the ESL Sports Centre, where the show is currently held today. GVBCA Bottle Show and Sale is held every spring with an average of two hundred tables featuring bottles and table top collectibles. Our show and sale is open to the public and dealer inquires are always welcome. GVBCA is a charter member of the Federation of Historical Bottle Collectors (FOHBC) and a supporter of the National Bottle Museum in Ballston Spa, New York.