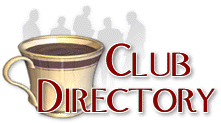 This directory lists over 2300 clubs related to Antiques and Collectibles
Click here to register your club -- Its FREE!
Find a club by name, starting with the letter:
A B C D E F G H I J K L M N O P Q R S T U V W X Y Z Other


Paperweight Collectors Association of Ontario
Contact: Tracy Willson
Website

The Paperweight Collectors Association of Ontario works closely with the Paperweight Collectors Association, Inc. (PCA, Inc.) headquartered in the U.S.A. and other regional and international clubs. There are more than 60 members of PCA Ontario and 1150 members of the PCA International. The Ontario club was founded in 1979 by a small group of glass paperweight enthusiasts led by Helen Carothers, the Founding President. The club holds Saturday afternoon meetings approxiately six times a year. The meetings include guest speakers, videos on glass techniques and artists, visits to glass studios, opportunities to buy and sell weights, and other related educational and collecting activities.