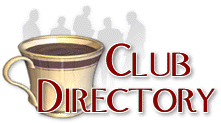 This directory lists over 2300 clubs related to Antiques and Collectibles
Click here to register your club -- Its FREE!
Find a club by name, starting with the letter:
A B C D E F G H I J K L M N O P Q R S T U V W X Y Z Other


Paperweight Collectors Association of Delaware Valley
Contact: Stanley Kruger
Website

The Delaware Valley Paperweight Collectors Association (DVPCA) is an unincorporated educational organization of about 140 member/collectors nationwide. The chapter was founded in 1992…our inaugural meeting was on October 10 that year…and our membership includes glass artists, paperweight dealers, museums and other educational institutions and collectors. We are one of the most active local paperweight collectors associations, meeting quarterly each year, winter (late January/early February), spring (late March to late April), summer (late June to mid-July) and fall (October). At these meetings, we learn about art glass paperweights, both antique and modern, through informative and entertaining programs, featuring speakers and artists of national renown. In addition, we publish quarterly newsletters, usually about four weeks before each scheduled meeting, containing articles of original research and announcing the upcoming program. We urge you to join us in exploring the wonderful world of glass paperweights.