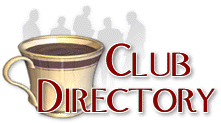 This directory lists over 2300 clubs related to Antiques and Collectibles
Click here to register your club -- Its FREE!
Find a club by name, starting with the letter:
A B C D E F G H I J K L M N O P Q R S T U V W X Y Z Other


Tarheel Depression Glass Club
Contact: Tarheel Depression Glass Club
Website

The Tarheel Depression Glass Club formed in the spring of 1984 in Durham, North Carolina. We are a group of people who share a common interest in collecting and preserving the glassware of the American depression era. The Tarheel Depression Glass Club sponsored 21 depression glass shows in central North Carolina, from 1985 through 2005. Unfortunately, the club will not host another depression glass show this year. Among the activities enjoyed by members are monthly meetings, a cookout in September, a holiday dinner in December, and trips to glass manufacturing areas of the country (West Virginia, Ohio, and Pennsylvania).