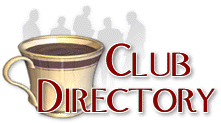 This directory lists over 2300 clubs related to Antiques and Collectibles
Click here to register your club -- Its FREE!
Find a club by name, starting with the letter:
A B C D E F G H I J K L M N O P Q R S T U V W X Y Z Other


Ohio Bottle Club, Inc
Contact: Webmaster
Website

Welcome to the official site of The Ohio Bottle Club, One of the largest and most active bottle clubs in the U.S. with over 250 family memberships. The Ohio Bottle Club hosts two bottle shows each year; one in Lakeland, Ohio, and one in Mansfield, Ohio. The Ohio Bottle Club is a great place for meeting with other bottle collectors who love the hobby and enjoy learning more about it. Meetings are held at the Eagles Club on Rittman Road in Wadsworth, Ohio, on the last Wednesday of every month and guests are welcome.