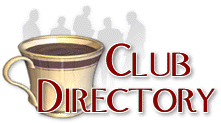 This directory lists over 2300 clubs related to Antiques and Collectibles
Click here to register your club -- Its FREE!
Find a club by name, starting with the letter:
A B C D E F G H I J K L M N O P Q R S T U V W X Y Z Other


Ohio Valley China Collectors Convention
Publications: twice yearly newsletter
Contact: Marie & Marden Blackledge
3806 Tremont Rd
Cleveland Hts., OH 44121 US
Phone: 216-382-2538
Website

annual convention held in East Liverpool, Ohio held June 23-25, 2010. For collectors of china of the over 100 Ohio Valley Potteries. Have lectures, market, auction, and other educational events.