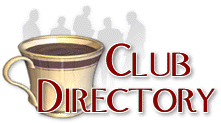 This directory lists over 2300 clubs related to Antiques and Collectibles
Click here to register your club -- Its FREE!
Find a club by name, starting with the letter:
A B C D E F G H I J K L M N O P Q R S T U V W X Y Z Other


Fenton Finders of Puget Sound
Contact: Diana Schafer
Website

Meetings are held the third Saturday of each month at White River Presbyterian Church, 526 12th St SE in Auburn at 7:00 pm unless otherwise announced. Guests are welcome. In accordance with our Bylaws, local membership is open to any collector, lover or dealer of Fenton Art Glass who has joined the National Club, Fenton Art Glass Collectors of America, Inc.