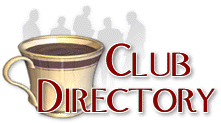 This directory lists over 2300 clubs related to Antiques and Collectibles
Click here to register your club -- Its FREE!
Find a club by name, starting with the letter:
A B C D E F G H I J K L M N O P Q R S T U V W X Y Z Other


L'accart
Contact: Thierry Depaulis
Website

L'Association des Collectionneurs de Cartes et Tarots (L'ACCART) est une association française à but non lucratif, régie par la loi de 1901. Cette association regroupe une centaine de collectionneurs français et étrangers, des historiens, des artistes, des graphistes, des musées, et tous ceux que l'histoire des cartes à jouer passionne. Elle a été fondée en 1978 et elle offre aux amateurs de cartes à jouer un lieu d'échange et d'informations. Plusieurs réunions annuelles permettent aux membres de se retrouver, le plus souvent à Paris. Cette association diffuse trimestriellement un magazine illustré : "L'as de trèfle". Des membres de l'associations sont disponibles pour répondre à toutes vos questions.