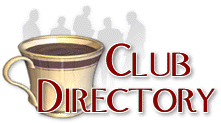 This directory lists over 2300 clubs related to Antiques and Collectibles
Click here to register your club -- Its FREE!
Find a club by name, starting with the letter:
A B C D E F G H I J K L M N O P Q R S T U V W X Y Z Other


The International Society for Label Collectors and Brewery Research
Contact: The Labologists Society
Website

To promote and disseminate knowledge relating to the hobby of label collecting and information regarding breweries, their history and allied subjects. To make labels available to members by way of exchange or sale at reasonable prices, in aid of our nominated Charity or Society funds. To provide opportunities for members to meet and to encourage them to correspond with fellow collectors to their mutual advantage. To organise our annual Label of the Year event in order to recognise and to encourage exciting new label design and to thank the breweries for their goodwill, on which the Society depends for so much.