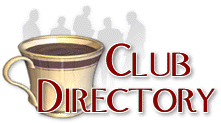 This directory lists over 2300 clubs related to Antiques and Collectibles
Click here to register your club -- Its FREE!
Find a club by name, starting with the letter:
A B C D E F G H I J K L M N O P Q R S T U V W X Y Z Other


Ecclesiological Society
Contact: Ecclesiological Society
Website

The Ecclesiological Society is for those who are interested in and enthusiastic about churches. Anyone can join the Society who is interested in the arts, architecture or liturgy of the Christian Church. Members' interests range over all periods and places, from the earliest churches in Britain through to the most recent developments in ecclesiastical architecture, fittings and liturgy across the world.