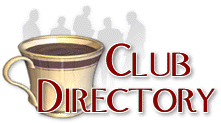 This directory lists over 2300 clubs related to Antiques and Collectibles
Click here to register your club -- Its FREE!
Find a club by name, starting with the letter:
A B C D E F G H I J K L M N O P Q R S T U V W X Y Z Other


Garden History Society
Focus: Garden History Society

Contact: Garden History Society
Website

Garden History is now a mainstream academic subject, but the Society has never lost that sense of freshness and discovery with which it was founded nearly 40 years ago, when garden historians were few but linked in friendship by shared pleasure in their subject. The future of our historic landscapes, parks and gardens is constantly under threat. The Society campaigns actively on their behalf. Join us and help to conserve them for future generations. Bullet Colin Treen, Chairman of the GHS, welcomes all GHS members and supporters. Bullet The GHS currently has a vacancy for a Conservation Officer for Northern England. Please note that the deadline for completed applications is 13 April 2007. Bullet The Winter 2006 Scottish Conservation Report is now available for downloading. Bullet GHS News Issues 71-77 are now available for downloading. Bullet Details for the Society's Lecture series for 2007 are now available. Bullet The closing date for the 2006-07 GHS Essay Prize has now past. View the entry details here. Bullet Find out how to obtain the new Digest of Planning Inquiries affecting relevant sites in England and Wales, produced by the Garden History Society with the support of English Heritage. Bullet The catalogue of the GHS Library collection at Bristol University is now available online. Bullet Find out about our series of Winter Lectures and other activities and events. Bullet Learn more from some of our publications. To give the Society some extra income at no additional cost to yourself, please use our link to amazon.co.uk if you're buying books or CDs. Bullet Can you help with any of the research requests on the noticeboard?