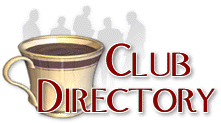 This directory lists over 2300 clubs related to Antiques and Collectibles
Click here to register your club -- Its FREE!
Find a club by name, starting with the letter:
A B C D E F G H I J K L M N O P Q R S T U V W X Y Z Other


The Cinema Organ Society
Contact: David Shepherd, Membership Secretary
Website

The Cinema Organ Society was founded in 1952 by Hubert Selby and Tony Moss for those interested in organ music as entertainment. The aim of the society is to preserve and promote the presentation of these wonderful instruments for the enjoyment of existing and future generations.